Copston Parva
A medieval township of Wolvey now deserted
The name of Copston Parva first appeared in records at the beginning of the reign of Henry II (1154-1189). At that time Ivo de Harecourt granted land to Robert Basset which shortly afterwards, together with other land held by Thomas de Astleye, was transferred to Combe Abbey. This remained a monastic estate until the dissolution of the monasteries in the mid-sixteenth century. A document dating to 1250 records a Chapel at Copston Parva and there appears to be a further reference to it in 1429. There is a record of the grant of free warren there by Combe Abbey in 1290 and part of the land at "Little Copston" was demised by Oliver Adams, the abbot, and the convent at Combe Abbey, to Christopher Sadeler of Wolvershill for 40 years in 1518.
No further references to Copston Parva are known after that date and it is not clear when or why the settlement became depopulated. We do know some of the land, then known as Copston Fields, was purchased by the Earl of Coventry in 1653.


William Dugdale, writing in the mid-seventeenth century, stated that "this place has for some time past taken the name of Smockington", a view subsequently followed in the Victoria County History of Warwickshire. However, Smockington has had a clear identity and existence since Domesday times when it was known as Snochantone. The site of Copston Parva is therefore likely to be elsewhere. Examination of the fieldnames in the area revealed a field called "The Township" implying a settlement in that place.
This site has been examined on three occasions by the Wolvey Local History Group with the kind permission of the farmer. In 2006 the Group, with Warwickshire Museum Field Services, organised a day's archaeological fieldwork on the land to search for this deserted medieval settlement. The work involved geophysical surveying, the results of which were inconclusive, and field-walking the conclusions of which are briefly reported here.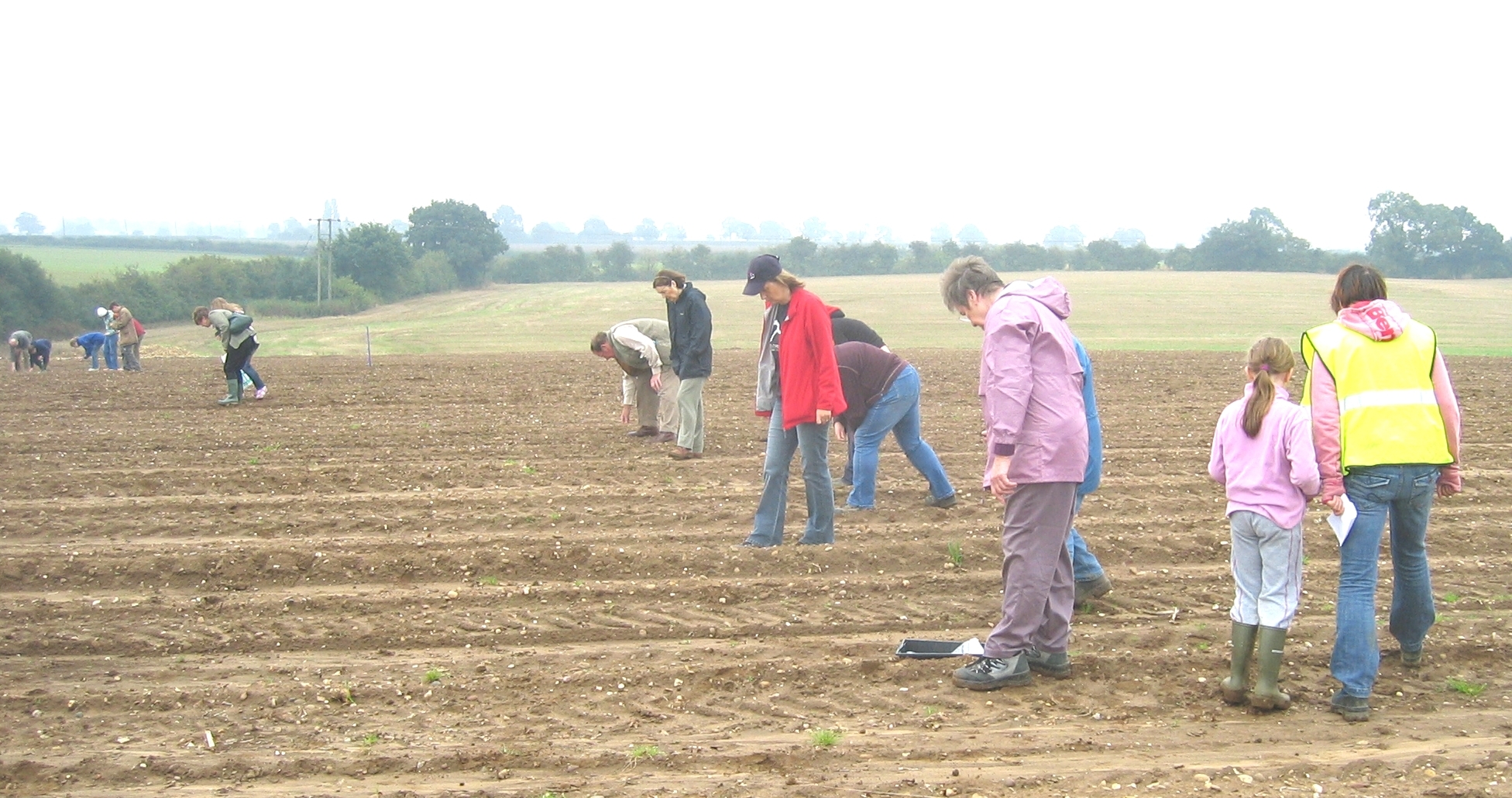 A considerable number of finds were made. Apart from a few prehistoric flint flakes and some Roman pottery, the bulk of the material comprised potsherds and building materials of medieval and later date, much of it made in the area with some being identified as from the Chilvers Coton potteries in Nuneaton. The pottery is analysed in the pie-chart below: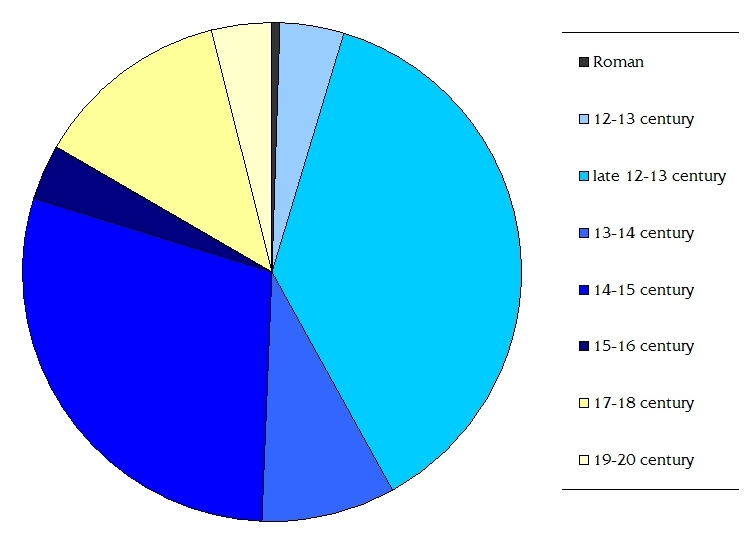 It will be noted the the majority of the pottery spans the period from the 12th to the 16th centuries. This corroborates the few written records about the settlement (see above).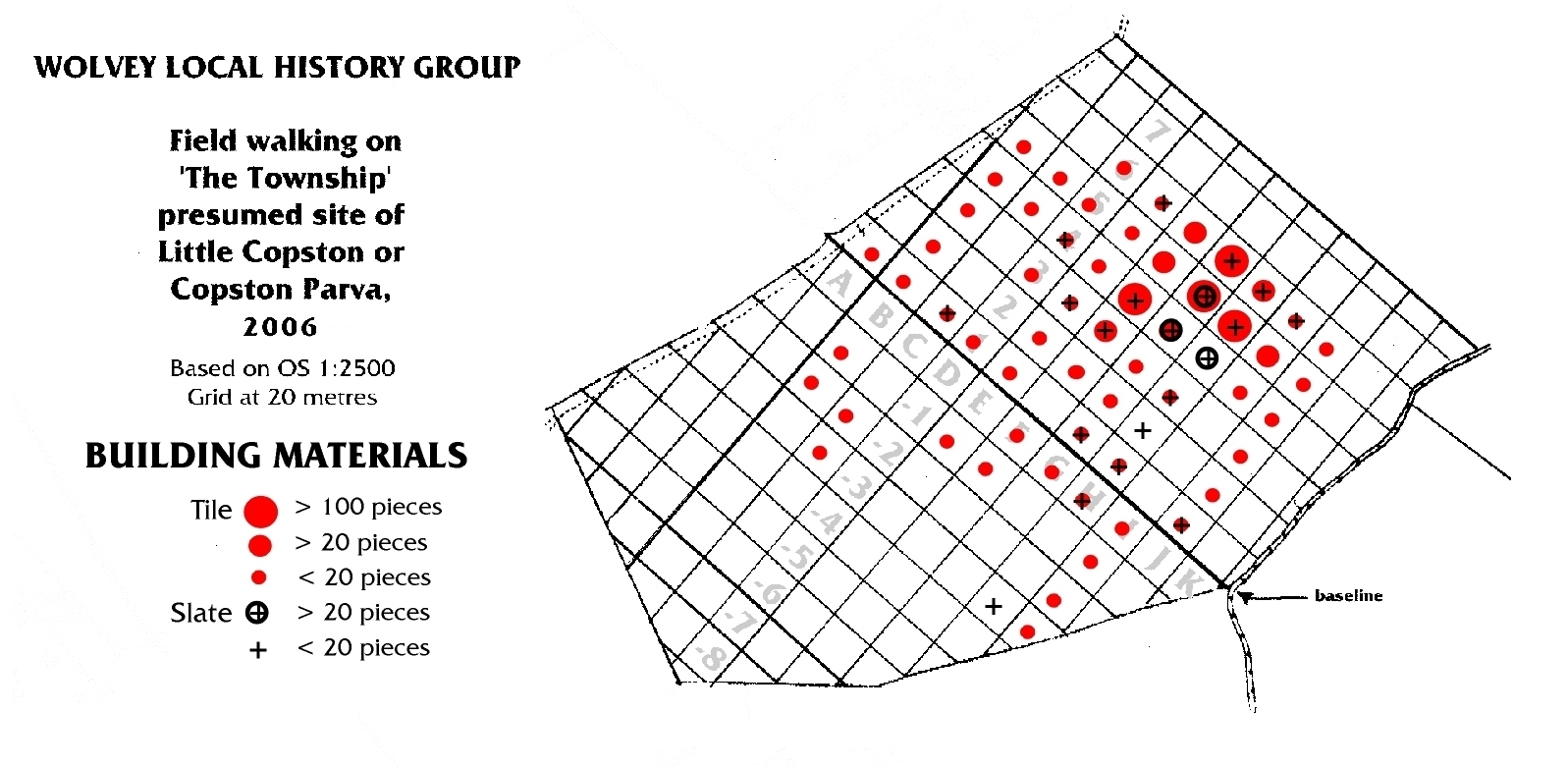 The distribution of the finds has also helped to locate the likely area of main habitation. In the diagram above the incidence of slate and tile suggests the site of a more substantial building, probably the Chapel referred to in the records.